CONVERSATIONS WITH SAMUEL R. DELANY | ABOUT BELLONA DESTROYER OF CITIES
////////////////////////////////////////
Samuel R. Delany (Author of Dhalgren) has won four Nebula Awards, two Hugo Awards, and the William Whitehead Memorial Award for his lifetime contribution to lesbian and gay writing. Born and raised in New York City's Harlem in 1942, he is a professor of English and creative writing at Temple University, where he is Director of the Graduate Creative Writing Program. Delany's novels include Nova (1968), Dhalgren (1975), Trouble on Triton (1976), and The Mad Man (1995). He is author of the four-book series, Return to Nevèrÿon (1979–87), and the short novel Phallos (2004). His most recent novel, Dark Reflections (2008), won the 2008 Stonewall Book Award and was a runner up for that year's Lambda Literary Award. His stories have been collected in Aye, and Gomorrah, and Other Stories (2002)and Atlantis: Three Tales (1995). His nonfiction volumes include The Jewel-Hinged Jaw (1977–rev. 2009), About Writing: Seven Essays, Three Letters, and Five Interviews (2006), and Times Square Red, Times Square Blue (1998). A further collection of his interviews has appeared in the University of Mississippi Press's Conversations with Samuel R. Delany (2009), edited by Carl Freedman. His new novel Through the Valley of the Nest of Spiders is forthcoming this November from Alyson Books.
Tanya Selvaratnam (Producer/Cast) is a producer, performer, writer and activist based in New York City and Cambridge, MA. She started her professional acting career as a back-up dancer for John Fleck at an ACT UP Benefit in 1993 while completing her graduate studies in Chinese Legal History at Harvard University. Since then, Tanya has performed around the world in shows by The Wooster Group, The Builders Association, and husband Jay Scheib, among many others; and has appeared in film and video projects by artists including Zoe Beloff, Candice Breitz, Gabri Christa, Andrea Geyer, Sharon Hayes, Jennifer Reeves, and Carrie Mae Weems. She has been a fellow at Yaddo and Blue Mountain Center, and a guest actor at Voice & Vision Theater, Lincoln Center Directors Lab, New Dramatists, and the Institute on Arts & Civic Dialogue. Also an accomplished producer, she recently completed two documentary features, Chiara Clemente's Our City Dreams and Catherine Gund's What's On Your Plate?, and has served as the Artist and Press Liaison for the Rubell Family Collection since 2008. Tanya's current productions are an original short film series for the Sundance Channel; a performing arts documentary series, MADE HERE, for HERE; and Jay Scheib's Simulated Cities/Simulated Systems, which includes Untitled Mars (World Premiere: PS122); Bellona, Destroyer of Cities (World Premiere: The Kitchen) and the forthcoming World of Wires.
Carrie Mae Weems (Photography/Video) is considered one of the most influential contemporary American artists. Her earliest documentary photographic series are Family Pictures and Stories (1978-1984), Ain't Jokin' (1987-1988), Colored People (1989-1990), and the Kitchen Table series (1990). A commission to investigate a body of historical photo-images of blacks from the Getty Museum in 1995 led to an extension of this interest in the diaspora in the series From Here I Saw What Happened and I Cried. In 1997, she began a trilogy of large-scale fabric installations that resulted in Ritual & Revolution (1998), commissioned by the Whitney Museum of American Art, The Jefferson Suite (1999), commissioned by the Santa Barbara Museum of Art, and The Hampton Project (2000), commissioned by the Williams College Museum of Art. Coming Up for Air (2004), her first video endeavor, screened at the Museum of Modern Art in New York City. Among her many awards are The Rome Prize Fellowship, Skowhegan Medal in Photography, and Anonymous Was a Woman Award.
ArKtype (Tour Producer) was established in 2006 under the direction of producer Thomas O. Kriegsmann to support emerging and established artists worldwide in the strategic development, production, and touring of innovative new work. The company is currently represented in the US and beyond with Jay Scheib (Cambridge, MA); Yael Farber/The Farber Foundry (South Africa); T.P.O. (Italy); Peter Brook/CITC (Paris); Phantom Limb (New York); CiRCA (Brisbane); Superamas (France / Austria); Jessica Blank & Erik Jensen (Brooklyn); Stalker / Marrageku (Sydney); World/Inferno Friendship Society's ADDICTED TO BAD IDEAS (Brooklyn); Rude Mechs (Austin, TX); KMA (London); and Aurélia's Oratorio directed by Victoria Thiérrée-Chaplin (France), as well as producing the Baryshnikov Arts Center / Ringling International Arts Festival in Sarasota, FL.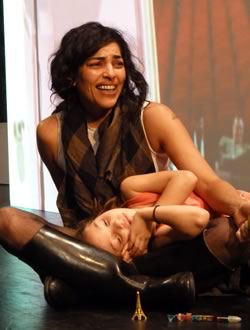 Sarita Choudhury (Cast) began acting in film with Mira Nair's Mississippi Masala and Kama Sutra...then joined Cheek by Jowl in the UK and toured with them for a year in Much Ado About Nothing. She continued with theater work at the New Group and The Play Company while continuing filmwork in Gloria, Perfect Murder, War Within, Lady in the Water and others and appearing in TV shows including Kings, Law and Order, The Philanthropist, Damages, and Mercy. "After working with Jay Scheib in This Place is a Deser, I am so happy to be back in his world of fun, postmodern crazy art."
Caleb Hammond (Cast) is a theater and visual artist. Performance roles include: the film Meanwhile, by Hal Hartley, Untitled Mars, Jay Scheib, dir. (PS122 and the National Theater of Hungary), This Place is a Desert, Scheib, dir. (Under The Radar Festival/The Public Theater), Daniel Veronese's Women Dreamt Horses, Scheib, dir. (PS122). Recent original works as a writer/director include: Walks Through Walls, Highways, Santa Monica; 1000 Wolves (Ontological Theater at St Mark's), SICK (Ontological and the Underground Zero Festival).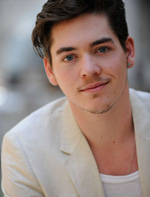 Frederic Böhle (Assistant Director) studied at Mozrteum Salzburg and is an actor, singer and director. A voice-over actor since the age of ten, he has performed at the Festspielhaus München in Shakespeare's As you like it and The Tempest, in Missing link at the Edinburgh Fringe and in the title role of Hamlet at the Schauburg München, in Midsummer Night's Dream and as a soloist in Bernstein's Mass at the Salzburger Festspiele. In Sibiu Romania, he performed in the opera Entführungs aus dem Serail. His first work as a director, Pool (no water), was recently invited to the Young Actors Week showcase in Salzburg. Knowing Jay Scheib from the Mozarteum Institute for Acting and Directing he was very pleased to work with him as an assistant at the Staatstheater Saarbrücken and now on Bellona, Destroyer of Cities.
Oana Botez-Ban (Costume Designer), a native of Romania, has designed for major theater and dance companies including The National Theater of Bucharest. Since 1999, her New York costume collaborations in theater and dance include Robert Woodruff, Richard Foreman, Maya Beiser, Evan Ziporyn, Richard Schechner, Annie-B Parson & Paul Lazar, Blanka Zizka, Brian Kulick, Zelda Fichlander, Karin Coonrod, Gus Solomon Jr., among others. Princess Grace Recipient, NEA/TCG Career Development Program 2009-2011.
Josh Higgason (Projection Design)
Mikéah Ernest Jennings(Cast): Theater: BELLONA, Destroyer of Cities (EXIT Festival Paris, The Kitchen) dir: Jay Scheib; Green Eyes (Hudson Hotel) dir: Travis Chamberlain; PULLMAN, WA (Chelsea Ttre, London) dir: Young Jean Lee; The Shipment (Sydney Opera House, The Kitchen, Int'l Tour), dir: Young Jean Lee; S.O.S. (The Kitchen, REDCAT, Int'l Tour) dir: Caden Manson, The House of No More (DTW, Int'l Tour), dir: Caden Manson; A Dream Play (St. Ann's Warehouse). Film: Failing Better Now, Things That Go Bump In The Night, The Record Deal. Drop by and see what i'm up to at www.MikeahJennings.com.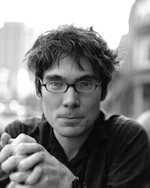 Peter Ksander (Scenic and Lighting Design) is a sculptor and stage designer. Previous work with Jay Scheib include designs for: Untitled Mars (this title may change) for which he won an Obie Award, This Place is a Desert, Women Dreamt Horses, and the lighting for A House in Bali and Making of Americans. Other recent designs include: Oh What War, Geometry, Laude in Urbis, Monstrosity, The Last Cargo Cult, Measure for Measure, The County of Kings, and The Archery Contest. He is a curator for the Ontological Hysteric Incubator and in 2005 was a recipient of the NEA/TCG Career Development Program.
Catherine McCurry (Sound Designer) is a theater artist and musician, trained as a classical violinist, composer and singer. She graduated from MIT in 2007 where she studied physics and music. In 2008 she was awarded a Fulbright grant to pursue Multimedia Performance Art in Berlin in residency at the Universität der Künste. She has previously worked as an actor, composer and media designer in New York City with Jay Scheib and the Talking Band.
Seaghan McKay (Video Operator) has designed projections in the Boston area for The Huntington Theatre Company Educating Rita, SpeakEasy Stage Company Nine, Striking 12, [title of show], Jerry Springer: The Opera; Emerson Stage Light Up The Sky, etc. Seághan performs as a live visualist (VJ) at the popular Thunderdome series of club events in Boston. Seághan is Lighting Supervisor/Lecturer in Theater Arts at Brandeis University. www.seaghanmckay.com
Ayesha Ngaujah (Cast) was last seen in "The WIfe", by Tommy Smith, and directed by May Adrales at Access Theatre in NYC. She has also performed in "American Schemes" by Radha Blank for Summerstage, "Eclipsed" at Woolly Mammoth Theater (DC), "Angela's Mixtape" at the Ohio Theater, "Times 365:24:7", Bone Orchard Theatre, "Van Gogh Cafe", Synchronicity Performance Group (ATL), "Stick Fly", True Colors Theatre Company (ATL), "GoDogGo!", Alliance Theater (ATL) and others. Internationally she's performed in "Diggydotcom 2.0", Made in Da Shade (Amsterdam, Netherlands), and "Spring Awakening", Albatheaterhuis (Den Haag, Netherlands).
Jon Morris(Cast) has created and performed with Fuerzabruta, Cirque du Soleil, The MET, Spymonkey, Diavolo Dance Theatre, the Evidence Room, Ken Roht's Orphean Circus, Fabulous Monsters, Theatre de la Jeune Lune. His company, The Windmill Factory, creates original work from living performance installations to international dance theatre collaborations. Recent works were presented at Robert Wilson's Watermill Center, La MaMa ETC, and the Burning Man Arts Festival. http://www.thewindmillfactory.com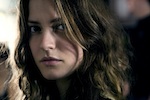 Laine Rettmer (Assistant Director) graduated with honors as a trustee scholar from NYU, TISCH in 2007. Since then she has continued to work as a director, actor, and writer in NYC. Upcoming work includes: directing a reading of a new play by Benjamin Forster, acting in both Anathema- dir. Peter Bolt, as well as Charles Mee's newest play with the theater company, Witness Relocation.
Natalie Thomas' (Cast) theater credits include Untitled Mars (This Title May Change) at PS122, The Wooster Group's House/Lights at St. Ann's Warehouse and Lucid at the Cherry Lane Theatre. Her film and TV credits include Month To Month, Payback, Heute Nacht, Sunday, The Guiding Light, and Law and Order. Natalie is an actor and producer with An Films. She is a former company member of Nederlands Dans Theater II and William Forsythe's Ballett Frankfurt.
Anouschka Trocker (Sound Design) was born in South Tyrol/Italy. She studied Latin American and Romanistic Languages and Literature and at the FU Freie Universität Berlin. M.A. 1999. Since then she has worked with sound. She makes radio fiction, radio drama, sound installation and sound design for theater and film.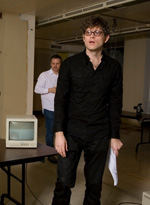 2011 Guggenheim Fellow Jay Scheib's (Director/Adapter/Co-Video Designer) recent and upcoming productions include Evan Ziporyn's new opera A House in Bali at Cal Performances in Berkley and Brooklyn Academy of Music (Fall 2010, Next Wave Festival), Puntila und sein Knecht Matti at Theater Augsburg in Germany, and Fidelio at Saarländische Staatstheater in Saarbrücken, Germany (Winter 2011). 2008 productions included Untitled Mars (This Title May Change), which premiered at Performance Space 122 in New York followed by a tour to the National Theatre in Budapest, Hungary, and This Place is a Desert, which premiered at Boston's Institute of Contemporary Art followed by a sold-out run at the Under the Radar Festival in New York. Untitled Mars received an Obie Award for Scenic Design; This Place is a Desert was named one of the Ten Best Shows of 2008 by Time Out New York. Concurrent with these productions, Scheib's collaboration with punk rock ensemble World/Inferno Friendship Society, Addicted to Bad Ideas, toured to numerous venues around the world, including Spoleto Festival USA, Under the Radar Festival in New York, Urban Arts in Helsinki, Peak Performances in Montclair, and the Luminato Festival in Toronto. International works include the world premiere of Irene Popovic's opera Mozart Luster Lustik in Belgrade, Serbia, Lothar Trolle's Vormittag in der Freitheit at the Volksbühne, Berlin and a new staging of the Novoflot science fiction opera saga Kommander Kobayashi in Saarbruecken, Germany. In the Spring of 2009, he was ranked Best New York Theater Director by Time Out New York, and named by American Theater Magazine as one of the twenty-five theater artists who will shape the next twenty five years of American theater. Recipient of the Edgerton Award, The Richard Sherwood Award, and the NEA/TCG Program for Directors, Scheib is a regular guest professor at the Mozarteum in Salzburg, Austria and is Associate Professor for Theater at MIT.
Susan Wilson (Stage Manager) studied theater, literature, and computer science at Massachusetts Institute of Technology, and currently works as a freelance theater professional with emphases on directing, video design, and stage management. She is a founding member of The Coalition, an ensemble-based theater troupe in Boston. Recent productions include A House in Bali (company manager: BAM Next Wave Festival), Trad (stage manager: Tir Na Theatre Company, New England premiere), Too Much Light Makes the Baby Go Blind (director, emcee: Dramashop), and Island (stage manager, video operator: Dana Tai Soon Burgess & Co., world and U.S. premieres).
////////////////////////////////////////
Listen to an MP3 of Post-Performance Discussion
with Samuel R. Delany and Jay Scheib moderated by Farai Chideya
(or read the un-edited transcript here)
Read the 21C Interview with Samuel R. Delany and Jay Scheib here...
////////////////////////////////////////
Farai Chideya (moderator) http://www.faraichideya.com/