This Place is a Desert
conceived and directed by Jay Scheib, Produced by Shoshana Polanco
With Performances by: Caleb Hammond, Sarita Choudhury,Thomas Keating, Aimee Phelan-Deconinck, Jorge Rubio, April Sweeney, Eric Dean Scott, and Tanya Selvaratnam

Stage and Lighting Design by Peter Ksander , Video design Jay Scheib, Sound and Additional Video by Leah Gelpe, StageManager Katherine Yen, Camera operation Karl Allen, Dramaturgy by Zishan Ugurlu, Peter Campbell, Emilie Slaby, Assistant Director, Emilie Slaby and Kenneth Roraback,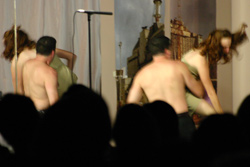 more here >
more here >
THIS PLACE IS A DESERT
Conceived and directed by Jay Scheib (Boston–New York)
in collaboration with media artist Leah Gelpe
Produced by Shoshana Polanco
Running Time: 110 min
The Public Theater 425 Lafayette Street
$15 tickets: publictheater.org or 212-967-7555
She wants to disappear. She has an affair. She feels worse. Partially seen and partially screened, This Place is a Desert follows four lovers as they demolish each other in an attempt to defy their irreparable loneliness. See the action in fragments—through windows, reflected in mirrors, through partially-drawn curtains and projected live onto a wide screen looming above the stage architecture. A lone cinematographer careens through the wreckage of bankers and writers, nuclear disasters, and accidents that might better have been avoided.. This play is a motion portrait parody of human loves and human emotion increasingly diminished.
"Taking a cue from the work of Italian director Michelangelo Antonioni, Scheib conjures a life's worth of tragedy and comedy, and relates them in the most fascinating way possible." - The Mass Media
Jan 9 – Jan 20: Wed Jan 9 at 8pm; Thur Jan 10 at 1pm; Fri Jan 11 at 9:30 pm; Sat Jan 12 at 2 pm; Sun Jan 13 at 7 pm; Wed Jan 16 at 7 pm; Sat Jan 19 at 4 pm; Sun Jan 20 at 7 pm